Friends of Uwharrie and the USFS rely on volunteers to complete special projects.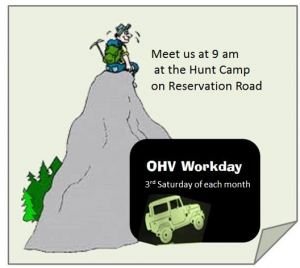 As you explore our ohv trail system in Uwharrie National Forest, please pay special attention to the barriers, trail markers, mulched areas, stream crossings, added rock and other features alongside and on the trail.  Our volunteers are responsible for installation and repair of many of the safety features you will encounter. They donated their time and physical labor to help protect the delicate environment that you get to enjoy!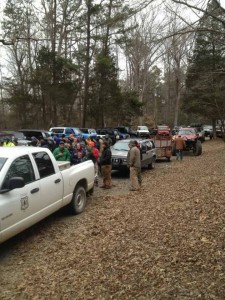 Volunteers meet on the 3rd Saturday of each month at 9 am at the Uwharrie Hunt Camp. No invitation is needed, simply show up to help!
Our volunteers haul and shovel tons of rock to add traction to trails, protect them from erosion and to help prevent wheel spin.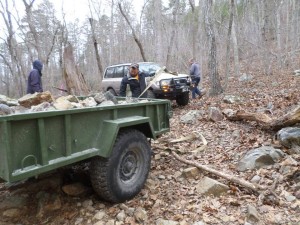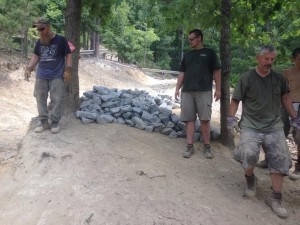 Volunteers install miles of guard railing and barriers each year.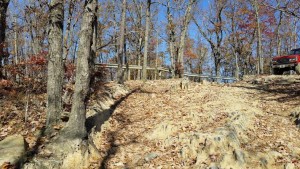 Often Sponsors such as Warn, provide gifts that we in turn reward our volunteers with in appreciation for their hard work and dedication.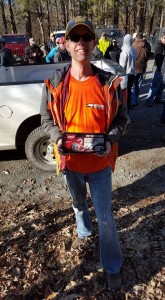 We take our volunteer work seriously. Hours, days and months of labor are donated during heat and cold to ensure this system stays open for everyone to enjoy.  We ask that during your visit you obey all trail rules and act respectfully.  Everyone plays a part in keeping this system open. You make a difference by protecting our hard work, staying on the trail and by packing out what you pack in. Cleaning is everyone's responsibility!